The best Bulk email verification platform is hard to select. There are a never-ending number of email verification services. So at BulkEmailVerification, we came up with in-depth audits of email verification providers. Taking into account parameters like Accuracy, Turnaround time, Customer support, verification capabilities, security, free trials and much more, to bring the best email verification services for the users.
What is Email verification?
Email verification in simple terms is dropping dead emails from your list. To get the most out of your email marketing efforts, it is important to clean an email list. Email verification plays a crucial role in increasing deliverability of your emails.
Email verification is a process of checking whether an email is active without sending an email to it. Email list irrespective of its size requires scrubbing at the proper interval to protect your email deliverability rates and sender's reputation.
Know the difference Email Validation vs. Email Verification
Email validation performs Syntax check and catches typing errors whether honest or purposeful. Email validation helps in confirming whether an email record exists with the domains like Gmail, Yahoo, etc.
Email verification is a complex process which uses a combination of various techniques to verify an email. Email verification checks whether there is an actual recipient at the receiving end of the email, and also checks if the inbox account is in use.
The process of Email verification?
The email verification process involves a complete suite of email verification methods that are not limited to the Syntax check.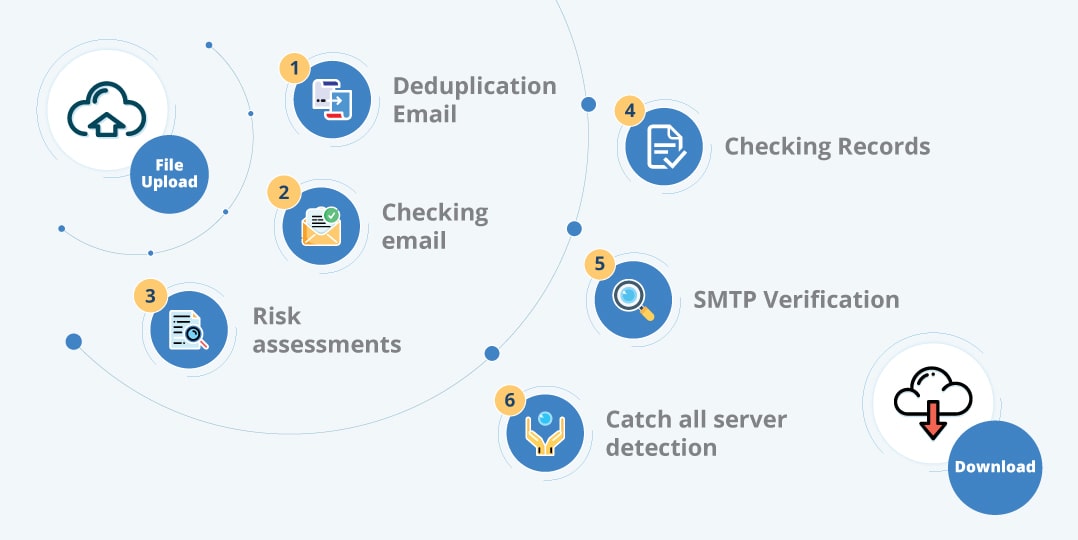 Why Is Email Verification Important?
Checking through each email address in your list whether it is valid or invalid is a time-consuming process, this is where bulk email verification services come in. An email verification service will not only save a valuable amount of time but will give you an accurate mail ready list which will have no to fewer bounces.
Email verification is an indispensable part if you are into email marketing. Getting rid of dead emails at regular interval of time can affect email marketing efforts positively. Without cleaning your list, there might be lower inbox deliveries and subsequently lesser conversions.
Benefits Of Bulk Email Verification
Increase Email deliverability
Decrease bounce rate
Get into the inbox
Protect sender reputation
Avoid spam traps and complainers
Better ROI and lower mailing costs
Data accuracy
Have a look at this detailed post by ZeroBounce on Benefits of Email Verification.
How To Select Best Bulk Email Verification Service
While choosing the email verification provider no one wants a complicated solution. An email verification service must provide a clean easy to use dashboard.
The free trial is essential to take a tour of the services provided by the email verifiers. Fortunately, email verification services offer a one-off list. Free credits are provided on a daily, monthly and one-time basis, have a look at our top free email verification services.
A good email verifier has the competitive pricing models with different subscription plans.
With compulsion of GDPR, an email verification service must be compliant enough to handle the large-scale data. Before you sign-up for any bulk email verification platform, it is necessary to gather essential information like privacy and security policy, data protection agreement, etc.
Here is our recommended Best bulk email verification platform by security.
ZeroBounce – Military Grade Encryption
Xverify – Send Shield Technology
EmailListVerify – Complies with Data Privacy Rules of 214 Countries
This is one of the most important factors when it comes to verifying emails, why will you even choose an email validation service with fewer capabilities for cleaning your email list?
Even with the best email verification service provider, customer support plays a key role. Analyze your customer support requirement you will need for your list cleaning needs. Consider the kind of support that would give you peace of mind. Whether you will need necessary tech support or a dedicated customer support manager? Choose the right email verification service that would be able to meet your need, to put your best step forward.
Multiple different validations
Many of the email verifiers are not capable of validating free emails like Yahoo accounts. It is essential to check the email validation capabilities of a vendor before signing up for their services.
Turnaround time is the time taken to verify an email list. Save time by selecting fastest email verification services.
Here is our recommended Best bulk email verification platform by turnaround time.
Share your experience with any of the bulk email verification services in the comment section. Do you offer bulk email verification service? Get listed here.