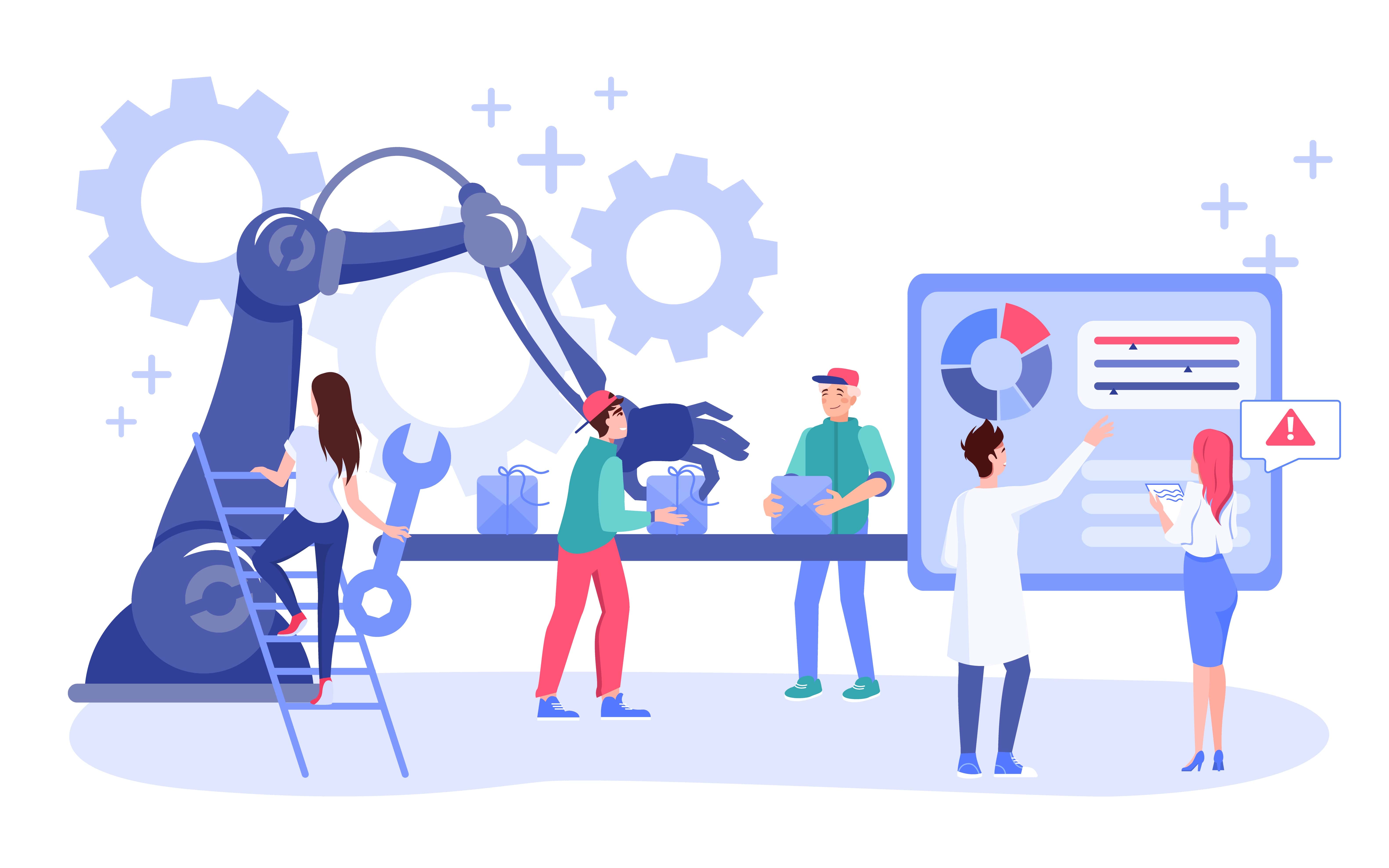 Let's kick the proceedings with a straightforward definition of what marketing automation is all about.
Marketing automation means using tools and software to automate marketing tasks. It includes the workflow execution and processes that understand the customers' behavior over time.
The end-destination of marketing automation is straightforward— streamline all your time-gobbling marketing tasks and eliminate a few of your most monotonous ones outright. A few tasks that you can tackle by automation are:
Responding to customer queries
Customer messaging and follow-ups
Lead generation and nurturing
Data entry
Scheduling and publishing content
Prospecting research
Although automation is often treated as pie-in-the-sky, the stunning fact is that almost 75% of B2B companies already put money in some form of automation.
Email drip campaigns. Social scheduling. Chatbots.
Now, these are all basic sorts of commonplace marketing automation adopted by businesses, both small and big. As modern tools are getting more user-friendly with a minimal learning curve, beginning the process of automation is easier than ever. Let's understand the concept first.
How Does Marketing Automation Work?
A lot of things take place behind the scenes via machine learning, which makes marketing automation tools successful.
Translation? Automation software has the ability to"learn" customer behaviors and preferences and makes decisions based on how a customer or lead acts—for instance, presenting a certain ad to a prospect who searched for a similar product on-site or shooting an email at a specific time because that's when your email list is most engaged.
Marketing automation tools heavily lift both carrying out tasks and decision-making based on logic. Exclaiming that, humans obviously play a great role in which tasks are automated and in what ways they leverage their automation tools and reap benefits.
And so, while there's much that automation is capable of doing, putting any type of process on autopilot needs setup and proper monitoring from a human marketer.
Separating B2B and B2C marketing
In our article, you'll get to know which B2C marketing strategies are perfect and most effective, and we'll learn using the examples from successful companies and determine how you can generate and deploy your own B2C marketing plan. But, before we directly hit our focus point, let's answer the critical question: "What does B2C marketing exactly mean?"
As we mentioned, B2C marketing is a technique a company uses to support the engagement of a customer and sell. However, to genuinely understand the meaning of the term "B2C," you need to know the major contrast between B2B and B2C marketing.
Hard to believe, but there's a definite difference between a marketing plan customized to a customer and one customized for another business. Undoubtedly you're still marketing to people in both cases; research reflects that the difference between the two marketing types actually runs deeper than one might expect.
For example, in B2B marketing, companies generally work to simplify and streamline the buying process to save time+money. B2B purchases are mostly focused more on "logic," but on the other hand, consumer purchases are attached more closely to "emotion."
Besides that, while consumers can make instinctive purchases based on their feeling at any given time, B2B consumers must be able to justify a return-on-investment for whatever they purchased. This means that there are fewer chances for you to generate a sale based on basic design elements such as font or color displayed at a point-of-sale.
No matter if it's B2B or B2C, you need to verify your email lists for sure. This is a truly unskippable step, and for that, you need a dependable Email verification service. Check out the top 10 HERE.
Features of B2C Marketing
We can characterize B2C marketing by a features list that makes it stand out. Here they are:
A short sales cycle. Contrasting to B2B marketing, in which the whole sales cycle is pretty much longer, B2C clients don't invest hours on research, hesitating, and comparing various features. B2C customers generally buy products that were advised or recommended by their friends, so the whole process is identical to intimidating for sellers and clients.
Domination of the emotional element over the rational element. B2C customers seek instant solutions to their issues based on their requirements. They hardly think strategically over the purchase, and they're just looking for a quick solution that will meet their needs here and now. Hence, if a brand manages to offer them this solution, they'll certainly return for the same experience.
Working with the end-user. Generally, B2C companies deal directly with the buyers of their products, making it easier to convince a person, use special techniques, find the right words, etc. While in B2B, a salesperson has to negotiate with various influencers who decide on behalf of the whole company.
The high significance of social media. It's impossible to work with the end consumers today without putting money and effort into social media marketing. People are desperately looking for customer feedback while choosing a product. They investigate each channel to make the right decision. They don't just look for reviews but prefer Instagram and Facebook to talk to the brand through chatbots. You will hardly find somebody who will give a call or pay a visit to the company's office. Hence, brands create chatbots to offer clients 24/7 support, share updates, collect reviews, and run retargeting campaigns to maintain relationships with the new customers they brought.
B2C Marketing Strategies
Before knowing about the best B2C marketing tips, we need to understand various strategies and figure out which all are more likely to work for you and benefit you in numerous ways. Once it's finalized, we discuss how to automate those strategies and how to gain benefit.
Content marketing. You'veYou've certainly heard the quote "Content is King." published on Microsoft'sMicrosoft's site. Every famous brand definitely invests in content marketing. This particular strategy helps businesses increase their target audience, generate leads, boost engagement, blow up sales, build brand awareness, nurture leads, and raise customer loyalty. Various content formats help effectively attain these goals. You can begin a blog to drive traffic to your website as well as educate your audience regarding your products.
SEO. Now that you're a boat in the ocean of content marketing, you should take your SEO seriously. This strategy includes optimizing your website pages to rank high in SERP. In short, it's a set of techniques that lets the search engine robots understand your content and help people find it conveniently. This is a long-term strategy that implicitly works with search queries of the users, your pages' load speed, and building links to your site.
Paid advertising. Now, this strategy is identical to SEO; the only contrast is that you're asked to pay for it. Besides PPC, it includes ads on Instagram and Facebook retargeting campaigns. All such ads help drive people who are already attentive to your product to your website. You can either pay for clicks or for views, depending on the ad format.
Email marketing. If you have a well-thought email marketing strategy, increasing your outreach will be easy. Besides that, you can build long-lasting relationships with the audience, increase brand recognition. All that will lead to sales-boosting. Combine transactional campaigns with promotional emails to perform better.
Social media. People invest hours per day putting heads into social media channels, and they use them to purchase products online as well. They look for customer feedback and reviews on Facebook and investigate more behind-the-scenes information regarding brands on Instagram. Besides that, they tend to share their preferred content with their friends, so you can increase sales as well as user engagement. Also, you can use Instagram and Facebook to talk to your audience and find out what sort of improvements will make your brand an ultimate choice.
Influencer marketing. You can find the most successful bloggers in your niche. They'llThey'll lead to better brand promotion to their vast audience. If they enjoy using your product, certainly you'll get the advantages of long-term cooperation and elevate sales significantly. You just need to carry out research and find the right influencers.
Rewarding programs and membership. Your loyal clients support the prosperity of your brand. They don't just increase your ROI but also bring in new clients and spread a good word regarding your brand. Create programs to reward their loyalty, and offer them to gather points that they can exchange for a product or some discount.
Marketing Automation Examples (truly worth interest)
Now that we've gone through the benefits, let's cherish few real-world examples of automation in action. You'll get a better idea.
Any combination of the seven tools mentioned below is fair game for pushing your business' time/effort-consuming tasks on autopilot mode.
1. Chatbots
Despite a few naysayers, chatbots have become amazingly popular. It's tough to visit a SaaS company site that doesn't run one these days.
The reason is that speed matters to customers.
When it comes to getting their concern or question dealt with ASAP, half of the consumers like to speak to a chatbot. How amazing is that fact?
Chatbots offer an immediacy that humans certainly have a tough time replicating, mostly if you don't have representatives available around the clock.
The bot's responses feel identical to something a human would narrate. Meanwhile the offered prompts enable visitors to get their queries answered in no time.
Many bots offer links and can also route site/app visitors to actual reps if there's a need.
This is an awesome example of how automation can bring prospects and leads in a meaningful way that humans otherwise couldn't.
2. Social Media Scheduling
We all know the truth – Social media is integral to businesses hunting to nurture leads and allure top-of-the-funnel prospects.
Saying that social media is time-consuming. Case in point, it's a superb piece of your marketing strategy that you can partially automate.
For instance, demand generation tools such as Buffer, Hootsuite, and Sprout Social allow you to queue up all your social posts for upcoming scheduling.
Although this isn't mainstream automation, additional features like the platform's "ViralPost" feature permits you to automatically publish your content based on "optimal" timing.
It's achieved by learning when your certain followers are likely to be online and engaged.
Xtra features like the ability to curate social content and automate messages and are also great time-savers for social media.
While considering that most businesses are juggling numerous social platforms, leaving such sort of tasks to automation tools proves to be a game-changer.
3. Behavior-Based Email Campaigns
Autoresponders and email drip campaigns are common sorts of automation that the majority of businesses are likely already using.
However, you should note that email customers expect personalized offers and messages based on their purchasing behavior. Deeply consider that personalized messages lead to higher open and engagement rates from your subscribers.
While dealing with a list consisting of thousands of people, automation is the golden key to personalizing messages and offers.
For instance, platforms like Klaviyo permit you to set up specific time-based workflows on the basis of your email subscribers' behavior. Besides that, you can send certain offers and cart abandonment messages according to previous buying habits (think: offers purchased, money spent, etc.).
4. Automated Reporting
With several marketing KPIs and metrics to track, businesses are drowning in data today. This can be tough if you're juggling numerous different marketing tools in your personal or company's tech stack.
That's the reason investing in reporting automation is a great move. There are various platforms that can consolidate everything from social media metrics and Google Analytics to Salesforce data and much beyond in a solo dashboard.
Rather than jumping between platforms and pull reports, you'll get everything automatically stored in one place.
5. Sales Acceleration
marketing work and Sales in tandem, signaling the requirement to have tools that support either departments' efforts.
For instance, inbound scheduling automation permits you to capture and store the information of your leads and book the same with a sales rep simultaneously. In essence, you honor all of your marketing teams' dedication by funneling your site's traffic directly to your sales team, and let them tackle.
Based on your given routing rules, your sales reps' and leads' schedules are in-sync without troubling your finger.
6. Lead Enrichment
The more info you've got on leads when you capture them, the better it is.
Lead enrichment platforms such as Clearbit help offer a more comprehensive view of your leads, and you don't have to do anything even close to manual research.
As soon as a person enters his email in a lead capture form, Clearbit will straightaway populate 100+ attributes (think: role, company size) which then appear in Salesforce. This is another true example of how marketing automation relaxes your schedule significantly.
7. CRM
Remember what we discussed earlier regarding time-consuming data entry? Using a CRM, you can conveniently store all of your customers' and leads information in a single platform without any manual typing involved.
A must-have for B2B lead generation, the CRM essentially offers an overview of your customers' history as they interact with your business.
Automatic as well as manual logging help generate an entire view of your customers and their respective personalities. This results in much better service, timely follow-up, relevant recommendations, etc.
Is Salesforce a Marketing Automation Tool?
Now that's a great question, and its answer depends on the way you use Salesforce.
For instance, you can use the marketing automation tools in conjunction with Salesforce CRM to accumulate more information about the market and lead to use them more effectively.
As stated by Salesforce themselves, marketing automation is perfect for gathering customer data, perfecting segmentation, and, equally, tailoring messages to customers.
In case you're already using Salesforce, consider that several marketing automation tools integrate with this platform. So, there's much to cultivate.
How expensive is Marketing Automation?
It truly depends on your business' scope and size, and of course, what sort of existing software or processes you have in place.
There are free marketing automation tools available out there.
For instance, the free version of MailChimp comes with automation features like cart abandonment emails and autoresponders. HubSpot's CRM likewise comes with a free platform option.
These sort of tools are probably great for smaller, up-and-coming businesses but exhibit that marketing automation is more approachable than ever.
If you're curious about a given tool, consider trying out a few demos or paying month-to-month for any service in order to test its advantages.
Why Does Marketing Automation Sometimes Fail?
The harsh truth is that marketing automation isn't entirely foolproof.
However, this is sort of a no-brainer. You simply can't expect to invest in a few tools and walk away.
Undoubtedly, some critics are rightfully doubtful of automation. All tools and data above scream rove that it's worthwhile for sharp marketers who know how to make the most of such software.
What's the most common reason marketing automation fails? Well, it's because a human touch wasn't present while setting up these.
For instance, processes need to be sensible as per the behavior of your real customers. Automated messages should sound like they're arriving from an actual human and not a robot.
Undoubtedly, there's also the problem of unrealistic expectations. Automation is truly able to do much, but it can't do everything. If factors such as your messaging, pricing are off-base, positioning or automation tools aren't going to fix such issues.
Heck, a few marketers simply don't know the reason behind investing in automation at the first time. Without certain metrics, KPIs, and targets in mind, you aren't going to reap an ROI from your efforts.