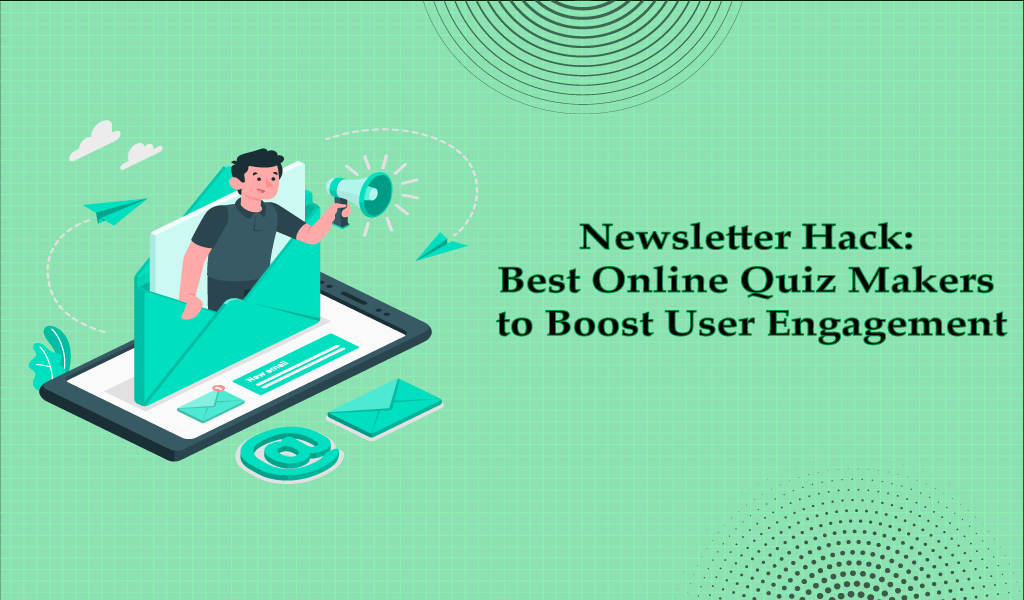 Attracting — and keeping the attention of your customers has never been more challenging. Today, we are constantly bombarded by marketing, but over the past five years, your average time to pay attention actually decreased — to just 8 seconds. There are a lot of creative and innovative strategies that you can use to engage your audience, and one of these strategies is being a quiz maker, Online Quiz Makers can help to increase the customer's engagement in the newsletter. 
For example, Jeopardy online quizzes provide an enjoyable way for customers to get involved in a conversation with you and your company. In addition, regular online quizzes will ensure that you are in the spotlight as your potential customer gets ready to purchase.
Online quizzes can also assist you in developing a deeper comprehension of your users and aid in building stronger relationships with them.
However, whether you're looking for a professional survey software or a fun survey maker, you have plenty of choices to pick from which will yield the most long-term outcomes?
Our experts at ListCleaningAdvice have listed the best quiz makers, which we'll go over soon. But first, let's cherish the main features of the top quiz makers.
A Word of Knowledge
We work hard to list the best email validator services for you, and we back our listing with in-depth statistics. If you want to verify your email list and stay on the safer site, visit ListCleaningAdvice without any hesitation.
Online Quiz Makers: Key Features
Quiz makers are available in many varieties. Some are highly professional, and others are more casual. Some are meant for fun, while others are designed to help drive the growth of a business.
Whatever your objective is, always look for these key elements when you create your own quiz.
Simple Promotion Options
Are you trying to collect as many possible responses, aren't you?
Picking a provider with integrated sharing options is an absolute priority as it will help in increasing the reach.
Data Collection and Analysis
How will you gather and utilize the data?
This is a major problem. If the data you've collected isn't easy to analyze and fails to help you find important patterns, then it's not worth your time. Be sure that the data that you collect is exportable or analyzed within the app with ease of you use.
Lead Capture
In 9/10 situations, you'll need your quiz to collect information about the lead from the user.
Check to see if there's a built-in system to collect more than just the answers of respondents and also ensure that it's able to integrate with your CRM system or an ESP.
Time Efficiency
Quiz makers accelerate the process to make them.
With the questionnaire maker, you are able to select from pre-existing layouts or templates to create an easy and enjoyable quiz without the hassle of beginning with scratch. The guides also give step-by-step instructions on how to create these quizzes, so there's no need for any second-guessing.
After we've addressed this, let's dive into our most popular quiz-making strategies.
Online Quiz Maker Tools
HubSpot

SurveyMonkey

Typeform

Survey Anyplace

Playbuzz

Outgrow

ProProfs QuizMaker

Qzzr

Google Forms

GetFeedback

Riddle's Quizmaker

Ask nicely

Alchemer

Wufoo

Form Crafts

Brandquiz

Microsoft Forms

ClassMarker
The 18 Top Online Quiz Makers of 2021
Price is: Free
While it's certainly something more sophisticated form builder tools, you do not require any technical knowledge to utilize HubSpot's HTML0 Free form maker. It is easy to make forms using the drag-and-drop form builder. You can turn people who visit your website anonymously into leads by using unlimited form fields, submissions, and customized forms that connect to your database of contacts. The flexibility and the ability to customize it allow you to easily create quizzes with the help of the program as well.
When someone fills in your form, they're directed to HubSpot's CRM for free. Once they're in your CRM, you can create reminders, contact them, or send them personalized messages one-to-one to help you manage and maintain relationships with your contacts.
HubSpot Forms also supports WordPress through HubSpot Forms is also available for WordPress via the HubSpot WordPress extension.
Prices: Team Advantage Plan, $25/month per user Team Premier Plan, $75/month per user; Enterprise Plan, contact for pricing
Utilizing Survey Monkey, you can make basic questionnaires and polls in a matter of minutes. The basic version is charge-free. The program comes with hundreds of questions and templates designed by survey methodologists specially created to get the most relevant data from the respondents.
While you are able to customize the layout and design of your surveys and quizzes, the most frequent complaint is that you cannot fully brand the surveys as there's no way to change/remove the Survey Monkey logo.
Pricing: Basic Plan, $25/year per user; Plus Plan, $50/year per user; Business Plan, $83/year per user
Typeform is a quiz maker that creates them in a way that is easy for the creator and the participant. By introducing one question at a given time and providing the test in an appealing and responsive design, Typeform has become a top player in the field of online surveys and quizzes.
The platform is simple to use, thanks to its drag-and-drop editing tools. It's also flexible, providing customer surveys, quiz tools for lead generation, and much more. There are numerous templates available that can be customized to meet your specific needs.
With Zapier, Typeform could be effortlessly connected to Zapier, and Typeform can be seamlessly integrated into CRM tools such as HubSpot. In this way, all data you collect is included in those contacts already in your database.
Another big consideration is – that some users may be frustrated by receiving inquiries one at a time because it's longer. Furthermore, the free version restricts users to only collecting 100 responses each month.
Pricing Basic Plan: $39/month per user Professional Plan for $59/month per user. Enterprise Plan, contact us for pricing.
Survey Anyplace is among the most advanced tools on the market. It features skip logic, results, and custom scoring that permit you to create tests with an emphasis on personalization. Add that to your branding and the possibility of respondents downloading the personalized feedback reports after the quiz, and you'll understand why this software is sought-after by HR professionals.
Price is: Free
Filled with cheap-looking advertisements, however, it is completely free. Playbuzz is a fantastic choice for those looking to give it a go and try the chance to create quizzes without spending a penny initially. Test it out and if it's a success for you, then move on to an advanced quiz maker that comes that has more features and an improved, ad-free user interface.
The program is simple and easy to start and is a great choice for beginners. It's also easy to share your professionally designed tests on social media after you're finished.
Price: Starting at $14 per month
Pricing: Freelancer Limited Plan, $14/month per user; Freelancer Plan, $25/month per user; Essentials Plan, $95/month per user; Business Plan, $600/month per user
Utilizing Outgrow, you can quickly make interactive quizzes, as well as calculation quizzes, quizzes, contests tests, recommendations quizzes, and chatbot-styled questions. Outgrow's drag-and-drop building tool is extremely intuitive and allows users to create their own quizzes or select from more than a thousand templates.
These templates may include suggestions for quizzes for B2-B eCommerce and B2C businesses. Outgrow lets users embed their quizzes in a variety of ways, including Email, Popup, Adverts, Sidebar, Floating Rectangle, Full page, Inpage, Chatbot, ExitIntent, and FacebookTab.
Pricing Plans: Free Basic Plan Basic Plan; Essentials Plan, which costs $25/month per user; and Premium Plan for $50/month per user and Enterprise Plan. Contact us for pricing.
ProProfs Quiz Maker is a great tool to create quizzes that are scored, public one's personality quizzes, opinion surveys, polls, online exams, and tests. The software comes with 100+ quiz designs with 100,000+ pre-designed questions and 100+ configurable options, and an easy-to-use editor for quizzes.
ProProfs Quiz Maker can accommodate 10 different types of questions which allows you to easily create online exams, quizzes assessments, tests, and surveys. The quizzes are compatible with the most popular tools for marketing automation, such as ActiveCampaign, MailChimp, Constant Contact, and others.
The tool has three plans that allow you to invoice monthly or every year. However, certain of its more sophisticated features are restricted to the business plans.
Pricing Plan: Basic Plan with a monthly cost of $25 per user and Pro Plan Contact us the price; Enterprise Plan Contact us for prices
Qzzr was developed by marketers inbound who had the goal of generating qualified leads. It makes completely customizable quizzes and surveys with its easy, sleek interface.
Users can also benefit from its detailed analysis of responses and make use of social sharing integrations to get more people to join.
A single of its most striking characteristics is the capability to make offers more relevant by analyzing the user's responses. For instance, you can place a 'Buy Now' CTA on the page with results to a product that the user expressed an interest in.
It's one of the less expensive choices on the list. However, it doesn't have the advanced algorithms that some of its rivals have.
Price is: Free
Google Forms is a free and user-friendly form tool that works within G Suite. Its functionality is simple as well as the user interface doesn't seem to be particularly flexible. However, you can build decent forms and tests to collect data from customers. Because Google Forms are integrated into G Suite, you can transfer data straight into Google Sheets to analyze.
Pricing: Pricing is available on inquiry
GetFeedback prides itself on its aesthetically-pleasing interface — both customer-facing and the back-end. It's one of the most sophisticated options for creating surveys and quizzes, but it's also relatively simple to use, even for beginners. It integrates with Salesforce CRM software and precise analytics to help you put the data you've gathered to good use.
Fully customizable to your brand and highly rated, GetFeedback is one of the top options that are available, perfect for large teams and businesses who really want to get into the data of their customers.
Pricing: Basic Plan, $29/month per user; Pro Plan, $49/month per user; Team Plan, $199/month per user
Riddle's Quizmaker is another tool that is easy to use focused on capturing email addresses. It allows you to collect information from leads and then send it directly to your lists using MailChimp or another software. Riddle's Quizmaker offers a particularly great price for small companies and entrepreneurs.
This tool can be downloaded as it's a WordPress plugin, and quizzes can be embedded on your website with embedded code. The quizzes can be fully customized, which means you can put your brand all over the questions.
Pricing: Pricing is available on inquiry
Ask Nicely works as a survey and form creator that focuses on customer feedback and enhancing Your Net Promoter Score (NPS). The application connects to HubSpot, Salesforce, or Slack and lets you automate follow-up with customers to boost ratings and reviews on websites such as Google.
Ask Nicely isn't just a simple quiz maker; it's a sophisticated marketing tool for large and medium-sized companies who value engagement with their customers. Pricing is determined by the needs of your business and requirements, but $375 is a rough estimate of what it'll cost you. (It's not cheap.)
Pricing: Collaborator Plan, $49/month per user; Professional Plan, $149/month per user; Full Access Plan, $249/month per user
Alchemer is a comprehensive survey and quiz creation tool with an easy-to-use interface. There are two variations -one designed for small and individual businesses and the other designed for larger companies. The first focuses on the simplicity of use, and the latter allows a more thorough analysis of data and focuses on research for customers.
Pricing: Starter Plan, $14/month per user; Professional Plan, $29/month per user; Advanced Plan, $74/month per user; Ultimate Plan, $183/month per user
Wufoo is a flexible tool for the design of forms as well as survey creation and quiz-making. We can describe it as a cloud-based service utilized among the most renowned companies in the business. The main feature that stands out is the advanced form logic and the ease at which you can gather data, and store and organize information.
It's not as user-friendly as other basic software available; Wufoo takes a bit of getting used to when you're using more sophisticated features (basic programming may be necessary! ). However, for everyday design, it's fairly simple to use.
The free version is limited to a certain amount of responses. However, beyond that, there are various price points that make it a great alternative for businesses growing rapidly.
Pricing: Free Limited Plan; Standard Plan, $29/month per user; Plus Plan, $79/month per user; Enterprise Plan, $179/month per user
Although it is designed for simple forms for newsletter sign-ups, questionnaires as well as other forms, Form Crafts supports multi-page forms and can be used to create quizzes. With real-time analysis, conditional logic, and simple integration with WordPress by means of a plugin, it's a viable alternative to the more popular alternatives.
Pricing is competitive, with various options that will suit the needs of any company.
Pricing: Free Limited Plan; Starter Plan, $25/month per user; Professional Plan, $75/month per user; Business Plan, $195/month per user
brandquiz is a great option for creating quickly and effortlessly engaging branded quizzes using various templates to choose from. It allows integration with top marketing tools, such as Salesforce, HubSpot, or MailChimp, in order to make use of all the data obtained.
The free version can accommodate 100 participants per month. A number of paid plans can provide the best value for companies that are growing.
Pricing: Free
Microsoft Forms, similar to Google forms, is a fantastic option for people skilled in using Microsoft Office as it has seamless integration with other Microsoft Office software. With simple step-by-step guides to create basic forms and tests, Microsoft Forms keeps it easy.
Pricing: Professional 1 Plan, $39.95/month per user; Professional 2 Plan, $79.95/month per user
ClassMarker is an assessment tool designed specifically for professionals in education. It has customized plans for business users too. You can design tests and exams that can be accessible to as many people as you'd like. It is possible to make the test tailored according to your own branding and even come with branded certificates. A sophisticated platform for results lets you easily analyze the data in order to make a decision.
This is a great alternative for large companies who need to poll many users. Pricing plans are reasonable for the level of customization and functionality that is available.
It's clear that there are many quiz makers on this list, So let's determine which quiz makers are best for you.
What quiz creator is the best for me?
Different quiz makers have different functions — it's all about the type of quiz you're seeking. Determine your goals for the test and what you hope to get from the experience, and then begin your search to find the most effective one.
The best online Quiz Software for marketers: Interact
Marketers are focused on the ways their content will generate leads, target their audience and bring traffic to their sites as well. Interact is the perfect quiz maker to meet exactly this purpose.
With the built-in analytics, marketers are able to take real-time data from their tests and incorporate them into automated email marketing systems and other automation tools to segment leads and capture leads.
The best online quiz maker For Teachers Typeform
This quiz maker will not just engage your students, but it also takes one step further by adding more capabilities. If, for instance, you're teaching a subject that involves math, Typeform offers a calculator function in exams. The program also lets you subgroup questions and answers to split the kinds of questions available and also to divide the types of questions offered.
The Best Online Quiz Maker for Spaß: Kahoot
For engaging quiz takers old and young, Kahoot is a fun and interactive quiz maker as it turns quizzes into an interactive game.
Increase Your Engagement by Engaging Questions
Making engaging quizzes is the best way to get more leads. With the aid of a top creator of quizzes, you will be able to create the best quizzes that highlight your business's goals and will appeal to your target audience.
Take a look at our extensive guide to learn the best methods to increase leads through quizzes, and we wish you the best of luck in your search for the top quizzer available.