Email list cleaning isn't as bewildering as it used to be in those old days when Email marketing was easier than today.
But why did I say that? How come email marketing was easy at that time when we have much more luxuries and technology today?
Well, don't you think the email receivers are much more sensitive towards unwanted emails thrown at them than what they used to be a decade back? Aren't the chances of getting blacklisted much more than in the past? Haven't the ESPs gone far more strict now?
Email list cleaning is easy, and you can grab a service and get a huge list of email verified, by which I mean achieving the highest email deliverability rate, lowering the possibility of an email bounce, decreasing spam complaints, etc.
But is every Email list cleaning service perfect and worth your trust?
No guesswork or free picking here, as your whole campaign is going to be impacted.
Putting all worries in the trash, we've brought you the most trusted listing of the ultimate email verifier companies for you, which will cement your email campaign's foundation, and don't miss a word here!
Read the deeper details of each company, and finalize the decision on what suits your email campaign the best!
Why should you trust us?
We always believe in hands-on experience, in-depth analysis, and data transparency. We divided the entire process of finding out the top 5 email list cleaning service providers as under:
List out 25 bulk email clean service providers
Accuracy analysis
Turnaround time analysis
Customer support analysis
Security analysis
Checking other vital factors
Apart from the above six steps, we also went through the privacy policy and terms of services web pages of all the vendors and got all the important disclosures required to know before choosing their services.
Yes, we went deeper and deeper
Data security is always a huge consideration when it comes to email list cleaning, as your list is truly precious. Hence, we checked The GDPR compatibility of all the email verification services that we considered in our testing and listed only those who were 100% compliant.
We never hesitated in taking a long time to complete the above process, as perfection matters while listing.
After that, we gave them star ratings based on the accuracy level, turnaround time, available customer support channels on their websites, how much time they take to respond to their customers, various features on offer, users' data security maintained by them, and much more.
After putting all efforts, we listed these email verifier companies on the basis of star ratings (which was the conclusion of all testing).
We've done detailed practical experience and analysis, rather than just on-page research, which numerous listers and reviewers do, and even more importantly, we don't enforce anybody or anything. We list honestly!
Get ready to make your email marketing campaign successful like never before!
What to consider while choosing a good email verification service?
You buy any service, and then you come to know what you needed is actually missing. How harsh is that?
How many services do the vendors offer?
What are the specialties of their product?
Are there any hidden marketing gimmicks?
What accuracy level are they providing?
Comparison of the actual time taken by the vendors to clean the email list and the time claimed on their websites
Don't forget to check various pricing models they are offering
In which file format can you upload the email list?
In which file format can you download the clean email list?
Is there any support available for the integration or not?
Top 5 Email List Cleaning Service Providers in 2021
Besides ultimate accuracy, you need much more when it comes to email verification. We have allocated much time for the in-depth analysis of various email cleaning and verification service tools with the highest accuracy (and perfection at other crucial factors) and are here with the top 5 services out of them: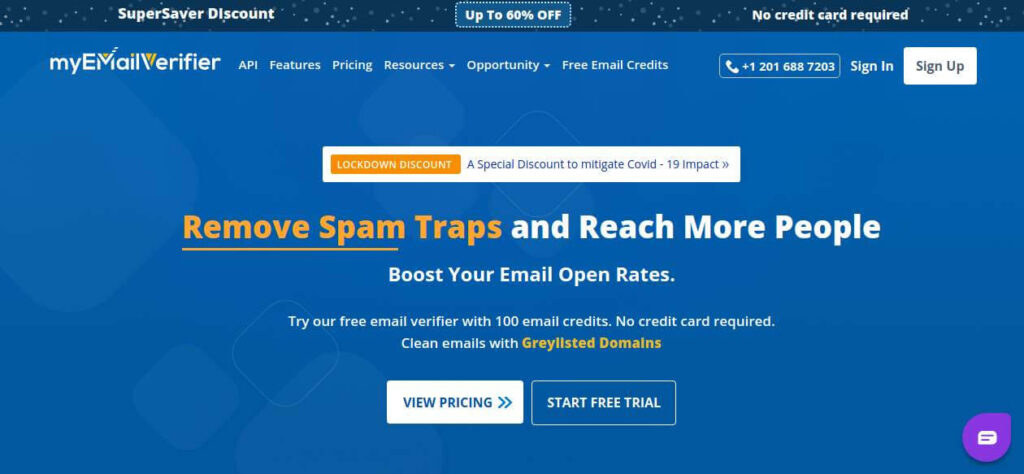 If your current research is all about grabbing the most accurate email verification service provider, MyEmailVerifier can hold your hands in terms of ensuring the most focused and personalized email verifying software.
The software is capable of offering up to 99% accuracy for the verification of the email lists that you have gathered with your efforts.
It involves role-based, catch-all, valid, invalid, disposable, and some other types of validation systems that make it highly versatile.
The more systems of verifying emails are there, and the more accurate the validation process will be. Hence, offering you the most accurate email lists. Talking about MyEmailVerifier's verticality, no matter if it's Yahoo, Gmail, Hotmail, AOL, or any other business emails, this software can detect all of them unambiguously.
The tremendous speed it offers (150 minutes turnaround time for 10K email addresses) is surely gonna complete mass email validation tasks in no time. Most importantly, this calculator is detected with our hands-on experience.
Great support + great facilities + Low price = WOW!
The cost-effectiveness of MyEmailVerifier is another handsome benefit that attracts more businesses to choose this software. At the cost of just $1.44 for 500 email addresses, while containing a great 60% off discount with its regular prices, MyEmailVarifier can be the best choice for a startup or non-profit organization too.
Apart from that, most famous email marketing service providers are currently integrated with MyEmailVarifier, for example, MailChimp, AWeber, ConstantContact, Getresponse, and Sendgrid that builds higher authority and earns more trust from its users.
Another simplicity they have integrated is that no app/software installation process is required in using this software's service. All needed is just signup, choose a plan (even a free 7-day trial is there to test their service), and all set to validate your email lists.
You will also get 24x7x365 customer support with live chat facilities. In case of some major explanation, you can also phone call for any technical solutions to your queries.
The technicians at MyEmailVarifier are highly responsive. You will get detailed and informative answers from them without any long time delay.
What's there to offer?
Excellent accuracy level (up to 99%)
Accurate verification of all kind of email addresses
Clear identification of active but disabled email services
Temporarily unavailable email address detection
Outstanding turnaround time
24x7x365 customer support
Reasonable price
Availability of huge discount
Availability of the highest number of free trials
Instant (one-time) 100 free email credits upon signup
Integration with well-known email marketing service providers
Easy-to-go signup process
No requirement of app installation
Availability of popular file formats for uploading and downloading email list
Real-time verification API support
So, what's the last word about MyEmailVerifier?
When it comes to accuracy, MyEmailVerifier is the undefeated king, and accuracy does matter a lot. Otherwise, just wonder, what's the benefit of spending on a list cleaning service when the list "actually" doesn't get clean and you still face deliverability issues?
In short, MyEmailVerifier truly deserves the crown, as its service is up to date and doesn't let you complain over anything.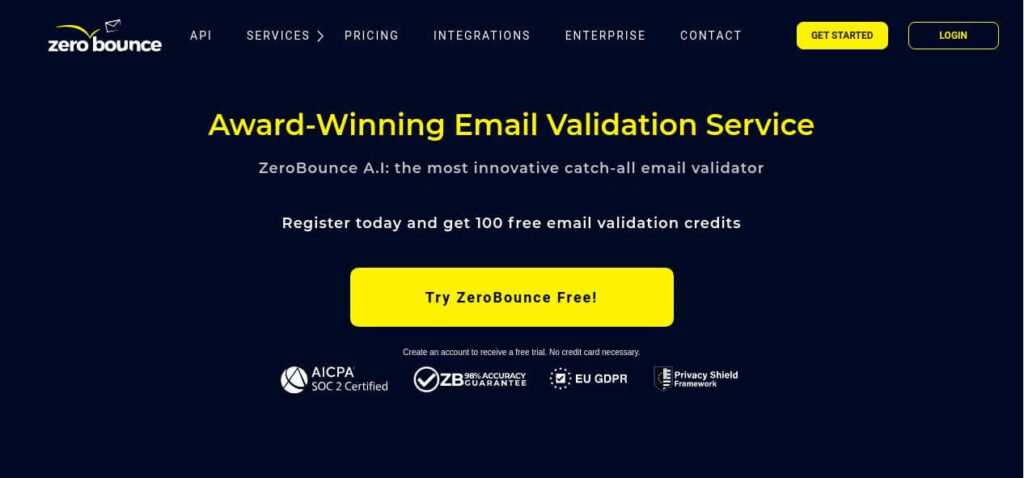 Are you among those businesses that focus more on quality than cost? If yes, ZeroBounce is the way to go considering quality validation! ZeroBounce is basically a US-based big-budget email verification service. It is among the fastest-growing companies in the email verification industry and has been earning the trust of customers with its fantastic services.
If you choose ZeroBounce as your email list cleaning service provider, the cost will be $65 for every stack of 10K email verifications. However, the least order value you can opt for is 2000 credits at $16, making it a big-budget vendor in comparison to others, but it is said that you get what you pay for.
If we talk about our hands-on accuracy experience of this software, it was capable of offering about 99% of accurate validation. This makes it stand in the second position after MyEmailVerifier in terms of accuracy.
This tool is highly versatile and can precisely identify any kind of email address, including Gmail, Yahoo, AOL, catch-all, disposable, role-based, greylisted, valid, invalid, duplicate email entries, etc.
However, with the greylisting feature, it might consume more time than other software in delivering the result file to its users. When we did its audit, it took nearly 450 minutes to deliver the result of 10K email addresses. But it is legitimate considering its accuracy level.
Three verifications can be used daily without signup, and 100 verifications can be gained after you sign up. Also, you'll get 100 free email credits every month, but your professional email account is the prerequisite. Moreover, there's no requirement of using a credit card to grab the free trial credits benefit.
ZeroBounce also offers the opportunity to integrate up to 45+ email marketing services apps, including MailChimp, AWeber, ActiveCampaign, and many others, making it highly versatile and easily operable for you!
What are the big luxuries with ZeroBounce?
Unlike other vendors' simple registering methods, ZeroBounce sign-up requires phone and email verification is compulsory. However, no downloads or installation is required to use this software.
After you sign up, uploading your email list in standard file format is possible including .xls, .xlsx, .txt, or .csv. However, the ZeroBounce system will not accept it if your email list contains more than 20% mal-formed or blank emails.
Besides that, ZeroBounce has a different system to download the clean email list in comparison to other software. The security is high here. Firstly, you will get a password-protected zip file whose key will be sent to your registered email address.
After you unzip it, you will find various .csv files such as all results, abuse, catch-all, do not mail, invalid, and the original files. In short, they make it convenient by giving the list of all kinds of email addresses in a separate .csv file, so identification becomes easy for you for all of them.
Further, you will also get a PDF file containing the summary of the results. Most importantly, ZeroBounce stores this result only for 30 days! Better download it before it gets permanently deleted.
Another major benefit of ZeroBounce is the customized support. All there's required is to just contact their support team and explain your requirements to acquire scalable support from them. It's as simple as putting butter on bread!
ZeroBounce has a big name and fame!
Why do such huge organizations and MNCs trust ZeroBounce? Well, because it's undoubtedly one of the most trustworthy and authentic sources of email verification out there.
We aren't alone to say that their certifications and accreditation scream the same. These include the following:
Good accuracy level (99%)
Cyber Smart Defence
PCI Compliance
ISIPP
ReturnPath
Certified Senders
EU GDPR Compliant
Privacy Shield Framework
BBB Accredited Business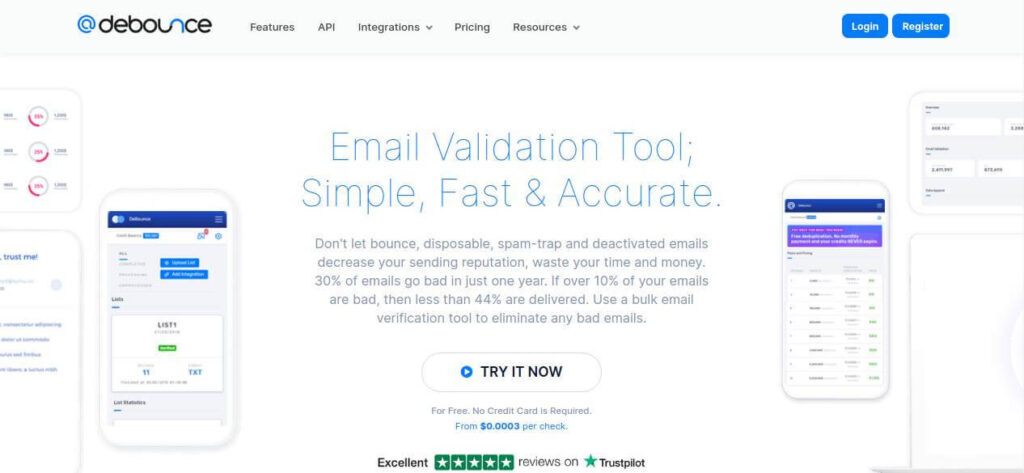 Now numerous small businesses that are non-profit and trying to grow are in search of the cheapest email verification services, and if you are among them, then DeBounce is a perfect match for you.
In comparison to other accessible email verifying vendors like Zero Bounce, QuickEmailVerification, etc., DeBounce is the most cost-effective pick for you! It's capable of verifying 10K email addresses at just a $15 price tag. Sounds worth it, right?
Also, DeBounce is not far behind from MyEmailVarifier in terms of accuracy, the software will offer you With 97% email verification accuracy, and that's pretty amazing considering the rate. Besides that, DeBounce wears the crown of one of the most trusted email validation and verification tools in the entire industry.
The least order value with this software is just $10 for 5000 credits, which is never gonna expire. Fortunately, DeBounce gifts 100 free credits for single and bulk email validation for first-time users. Just signing up is required to receive it.
Though DeBounce is good in terms of accuracy, turnaround time can be a bit high. It'll take up to 40 to 45 minutes to verify 1K email addresses and 450 minutes for 10K email addresses.
Amazing level of versatility and flexibility
Though DeBounce is ahead in accuracy level, its turnaround time is very high, i.e., 40 to 45 minutes to verify 1K email addresses and 450 minutes for 10K email addresses. It can be a downside of this tool, but it's legit as it gives a good accuracy level.
DeBounce offers integration with 100+ well-known applications where 50% integration is with direct apps and remaining with zapier apps. Apart from that, if you are a WordPress user, you will get the extra benefit of using it as it offers WordPress plugins for instant email verification.
This email list cleaning tool is the one that provides a team account facility which means there are no limitations of using it with numerous users like other software. You can add all your team members to a single DeBounce account, and all can access the same account from various places.
If you are running a large-scale company, this feature makes this tool highly cost-effective for you!
DeBounce specializes in trapping any kind of email address such as catch-all, valid, invalid, hard-bounce, disposable, invalid syntax, duplicate, role-based, greylisted, etc., its platform instantly.
What's there to offer?
Uploading your email list in this software is highly simple; it can be done through .txt and .csv file format or available integration options. Moreover, downloading the result file is possible with all standard file formats.
Excellent accuracy level (97%)
Accurate verification of all kind of email addresses
Clear identification of active but disabled email services
Temporarily unavailable email address detection
Outstanding turnaround time
24x7x365 customer support
Reasonable price
Availability of huge discount
Availability of the highest number of free trials
Instant (one-time) 100 free email credits upon signup
Integration with well-known email marketing service providers
Easy-to-go signup process
No requirement of app installation
Availability of popular file formats for uploading and downloading email list
Real-time verification API support
And here's the final word!
As the software is highly cheap, they don't offer live chat and phone call support to their customers, so it might be somewhat tough for you to reach them out in case of any emergency. However, their email support is highly responsive, and their technicians typically reply within 30 minutes to email tickets along with in-depth answers for all technical queries. Getting its feature can be a winning game as free chat support!
No matter DeBounce is among new players in the market; it stands out from others in terms of reasonable price, outstanding services, and accurate validation. If it's a new email marketing campaign in which you're not that confident about the success, then rather spending high, trust DeBounce to do the job.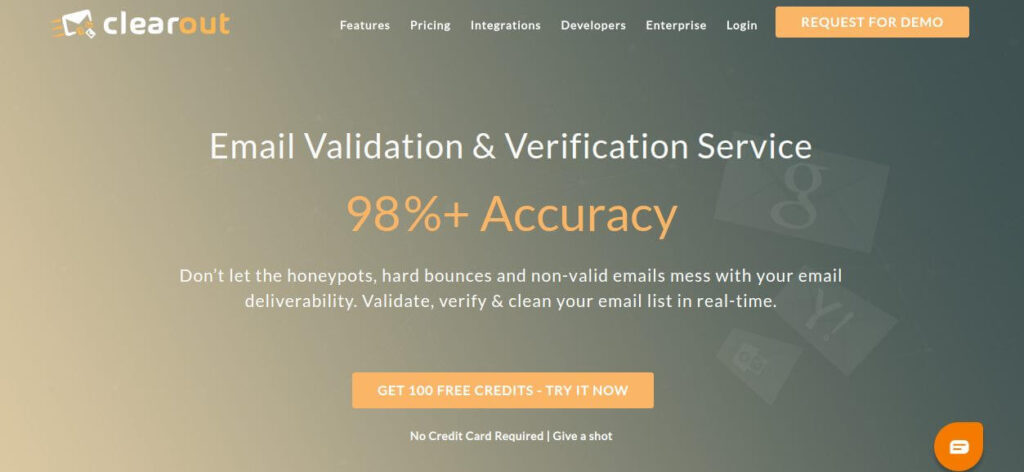 The fifth spot in our best email verifier service review in 2021 is sealed by Clearout, and this one is truly a tough competitor to the top four verifiers that we've listed over here.
Cleanout is an amazing email verification service, a highly tested one, and probably the best choice for those having burdens of email lists to be verified in less time.
How convenient is Clearout? Does it offer great results with a variety of email types?
Yes, it does!
Whether it's a valid, invalid, Gmail, Yahoo, AOL, role-based, catch-all, disposable, or any other business email address, Clearout can easily detect any kind of email address. Their easy to integrate JavaScript widget helps you validate emails in real-time in all types of forms.
The signup process in Clearout is not that complicated. It asks for the business email and phone number verification (which you already expect with any email verifications service). Apart from that, you won't require to download and install any other software as it's a SaaS-based platform.
Just upload an email list in .csv and .xlsx file format, and you're good to download the clean email list in .csv format, a standard file format.
How speedy is Clearout?
Clearout lets you validate 10K email addresses in 300 minutes which looks high but justified against its accuracy level. You will get 120 verification daily and five single email validation every hour without sign up.
But you will get one time 100 verifications and 500 instant free email verification (one time) after signup. If we talk about its accuracy level, it stands 5th with 97% of accuracy. Isn't it good?
A word about flexibility (here you get that extra spice)
There are a few departments where Clearout proves to be unique.
Safety is a priority, and ClearOut understands it better than anybody else. First of all, It protects the data through a 256-bit SSL protocol with an encryption layer, making the security level higher than any other email verifier in the entire industry.
Email validation service isn't the only thing Clearout offers.
You may be unfamiliar, but it also facilitates phone number validation to pull useless phone numbers out from your database and to let you run a successful SMS marketing campaign. This is one of the unique features of Clearout and makes you double beneficial.
ClearOut has integration with 30+ other applications, including Mailchimp, which allows you to clean the contact list from one or more Mailchimp accounts. This will surely make things smooth for you!
Moreover, if you want a customized or scalable service, you need to get in touch with their support team and request a custom quote. Their customer support service is very active and helpful, and they provide live chat, phone, and email support.
They typically reply in the email within 30 minutes with a detailed answer for your technical or non-technical queries, and that's truly appreciable.
What's on offer:
High accuracy level (97%)
Well-managed API dashboard
Swiss EU-US privacy shield certified
Military-grade security
Email scoring system through AI
24/7 live chat support
Integration with well-known ESPs
Pay as you go option
Gender identification
Verification of any kind of email addresses
free 100 email credits per month
Standard file format for uploading the email list
Customized services
What makes you trust ClearOut?
A few things are yet to be mentioned!
You get an amazing AI scoring feature that accurately classifies all catch-all email addresses and separates them into ratings by scoring them a score from 0 (bad) to 10 (good) based on their bounce rate.
Their email support is also mind-blowing as they normally reply to the email ticket within the time frame of 1 to 3 hours with detailed answers for any kind of technical query of yours. They always support their clients as their first priority.
One unique feature this platform provides is that it adds missing data such as the subscriber's first and last name, gender, city, state, country, and IP registration information to your email address list without charging any extra penny. This feature is not accessible with most of the other email verification tools.
So, what's there to reject this email verification service?
Here, we conclude! Finally!!
So, these were the superb email list verifiers to trust in 2021.
Take your time and keenly check the offerings (and how you get helped from those offerings), pricing, functionality, and so on. You certainly can research further, but again, all reviewers and listers aren't honest.
Our expert, email marketing team, has put their hand and leg into research for building this top 5 list and explain the deep benefits of these email verifications services like no others have done.
Undoubtedly these were the fantastic five, but our personal recommendation remains MyEmailVerifier, as even after being so reasonably priced, they are perfect at almost everything related to email verification. This service is truly unmatched, and we forecast its dominance for at least the next few years as well.