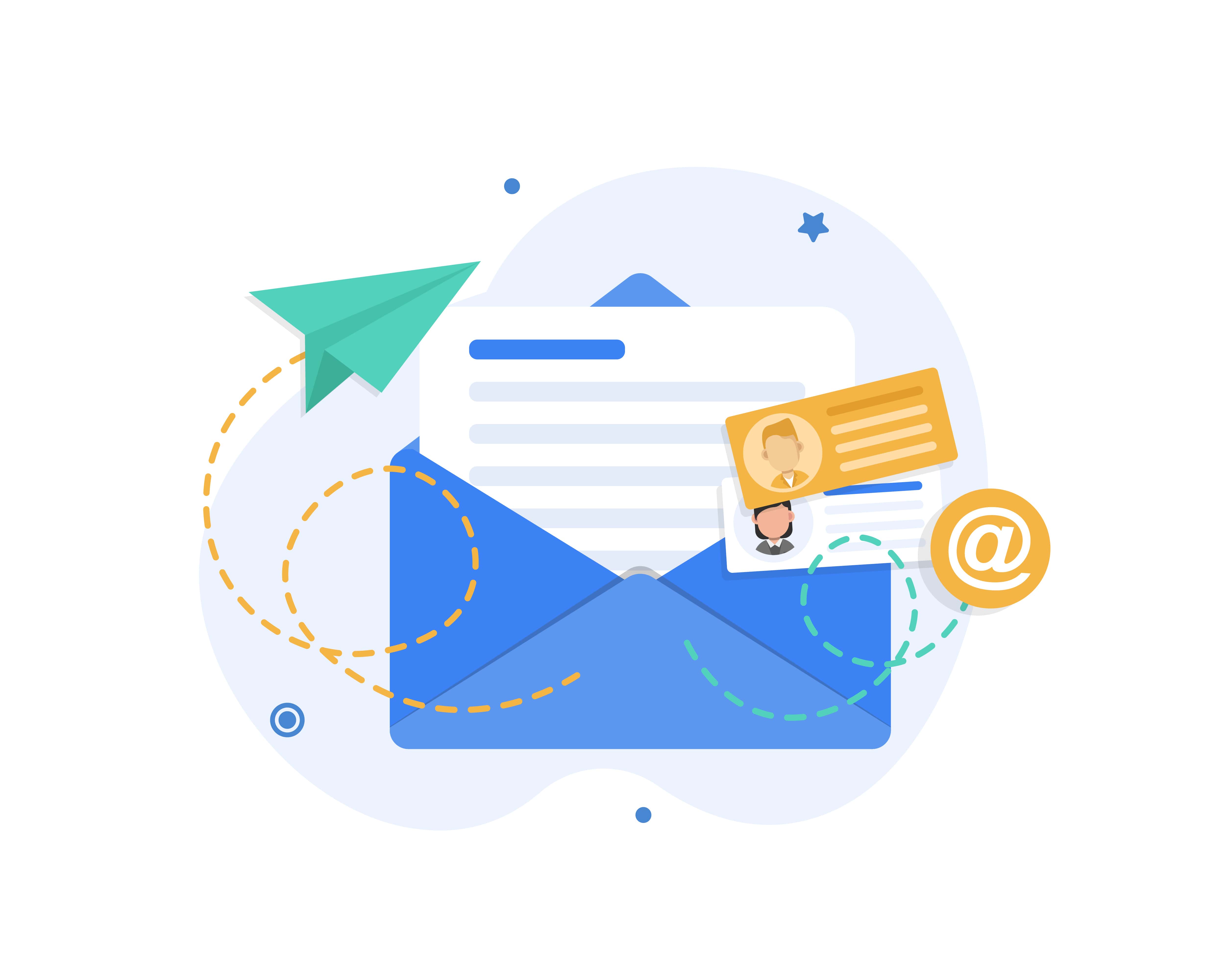 When creating a new automation process, you must select a trigger to put everything in motion. We've got ten different types of triggers. Let's see how they turn out!
Depending on your email marketing strategy, One can use automation triggers to initiate a chain of emails or activities (or both!). We'll explain how to utilize each automation trigger and provide examples to help you get started.
Why utilize email automation?
Automation saves you time when developing and sending email marketing campaigns, but that's not all! It also assists you in increasing engagement, nurturing prospects, and providing a customized client experience.
Connecting with a client depending on their activity (through automated triggers) results in a more natural relationship, which develops trust and promotes sales. Triggered emails may earn 24x more money per message than normal emails.
You're undoubtedly used to receiving automated transactional emails such as account notifications and invoice bills. However, there are several more ways to offer quality email content, such as online courses, freebies for new subscribers, product suggestions, follow-ups with existing clients, etc.
What is an email trigger?
An automation trigger is an event that will immediately start your automation workflow as soon as it occurs. The first step in building an automated process is to choose a trigger.
——————-
Automation trigger example
Assume you want to send an automatic email to new subscribers who sign up for your email list utilizing one of the signup forms. In this instance, you would use the trigger "When a subscriber fills out a form." Then you add an email step, write your email from scratch or using a template, and include a clever subject line.
————–
Each trigger only fires once for each subscription in that process by default. So, if a subscriber fills out that form and then fills it out again later, the workflow will not activate a second time. If you want your automation to be activated more than once, go to the sidebar and choose the "Repeat workflow for subscribers who…" option.
No worries about spamming them. Because the same subscriber can't be activated more than once in 24 hours, subscribers can only be activated a second time after completing the procedure.
Except for the custom field and date update triggers, the "Repeat workflow" option is available for all triggers. Subscribers can be activated several times by default for these two choices (but only after 24 hours). For example, this common automation procedure may automatically trigger anniversaries and birthdays every year.
If you want to better understand automation, research email automation before digging into particular triggers and how to utilize them!
These Automation Triggers Add "Extra Vitamin" To Your Email Campaign
Trigger 1: When a subscriber joins a group
The most common (and powerful) automation trigger is "when a subscriber joins a group." Groups are used to segregate an audience. You may automatically send customized emails to subscribers in certain audiences using this trigger. Sending material relevant to your readers can help you increase your open rates.
When a subscriber joins the group you choose when configuring your process, this trigger is triggered.
It's ideal if you have a signup form for a specific interest group or if your form allows subscribers to self-select several groups. In addition, you can now send personalized emails to each group and fine-tune your sales funnel.
If the subscribers were already in the group when the trigger was established, you might manually add them to the process by clicking the Add subscribers to workflow link. Once the process is activated, you'll see this option on the sidebar. Subscribers will not be alerted more than once per 24 hours. If a subscriber unsubscribes from that group, their information is deleted from the process.
Note: Even if they join the trigger's group, subscribers who belong to an excluded group will not be activated in the automation.
Example
When subscribers join your newsletter, the most typical procedure is to send a welcome email used for onboarding, as seen in the example above.
Another scenario in which you may use this email trigger is when you're conducting a webinar. For your forthcoming webinar, you would build a separate signup form. Each individual who joins up and completes the double opt-in will be added to a group called "Webinar signups."
Every time someone is added to the webinar group, you may utilize email automation to send an email series. Your first email should be a confirmation for the next webinar, followed by a reminder and a "We're starting in an hour" email.
Trigger 2: When subscriber completes a form
This is the automation trigger that we utilize the most. When a subscriber completes the specified signup form that you built with MailerLite—whether it's a pop-up, landing page, or embedded form—an automated process is started.
Example
When your form caters to a certain demographic, this trigger is ideal. Content offer automation is one example. If you were to kick off right from scratch, you would construct a landing page for your content offer, add a registration form, and then establish a new automation pipeline using the completed-form trigger.
The first step in your procedure would be to compose an email with the content offer. This email would be sent automatically right after the subscriber confirms double opt-in (if you have this option activated). You may then add as many emails as you want (like a follow-up email a few days later).
Trigger 3: When a subscriber clicks a link
When a subscriber opens a link in one of your email marketing campaigns or automated emails, this trigger allows you to initiate a specific action. Once configured, the workflow is activated when a subscriber clicks the link in their email.
Example 1
The above example may be used to automatically divide engaged readers into different groups. Subscribers who downloaded the free PDF are moved to a new group using this procedure. You may now send follow-up emails to this group.
Example 2
You're going to promote a free social media course in your next promotional email newsletter. You include a "Send me the course" button in your email and route it to a fresh "Thank You" landing page designed exclusively for this course.
The workflow will be activated each time someone clicks the button in your newsletter and lands on the Thank You page.
Note: If you're utilizing our landing page builder, you should delete the Form block from your layout. This is because of the fact that you do not require a Success page (the second tab in the landing page editor), simply the Thank You page.
Trigger 4: Updated field
When a custom field in the profile of the subscriber is changed and matches the trigger rule, an automation process may be initiated using the updated field trigger. It also works when a subscriber profile's custom field value is manually modified, and the new value matches the updated field trigger rule.
Example 1
This is an excellent prompt for the Net Promoter Score survey. When a subscriber clicks a score, their custom field is instantly updated. Based on the score they supplied, you may send a customized follow-up email. A survey is utilized in the preceding example to get feedback from individuals who gave the product line a score of 6 or less.
Example 2
This trigger can also be used to send an email with first-purchase feedback. When an order is finished, this feedback email is sent.
When using Shopify, for example, you may create a custom field that reads "Shopify order count." If a client never placed an order, the field will be blank or will show 0. The field will automatically change to 1 after a consumer completes an order.
Set the rule "Shopify order count" = "1" for this automation example. When you place your first order, this rule will automatically send your feedback email.
Trigger 5: The anniversary of a date
This trigger is ideal for commemorating significant yearly occasions such as birthdays or wedding anniversaries. It becomes active when the subscriber enters a specified date into the date-based custom field. Because the year is disregarded, the email campaign is delivered once a year and only affects subscribers who belong to the specified group.
Example
The automatic birthday email is the most common example of this trigger. The program looks for a day and month match in the birthday field and then starts the birthday workflow with this email automation.
Trigger 6: The precise match of a date
This trigger is perfect for one-time emails that must be delivered on a certain subscriber's date, such as a membership renewal reminder or a post-purchase follow-up.
It looks for a certain date in the subscriber's date type custom field. This occurs automatically for each subscription every day at 4 a.m. GMT/UTC +00:00 and is repeated once. It only affects subscribers who are members of the specified group.
Example
This trigger may be used to construct a process with any type of information—it simply depends on the available  data. Assume you own an insurance firm. There is a column in your customer's data that displays the date when each person's insurance expires. The date field "1 month before" "insurance termination date" is now available. Of course, the timing of the reminder is entirely up to you. It may be a month, a week, or just a few days ago.
E-commerce automation triggers
Aside from these six triggers, there are four more triggers particularly for those who own an online store.
E-commerce stores may use tools to successfully ask for post-purchase feedback, promote related goods, and close the sale when buyers haven't completed their transaction.
E-commerce trigger 1: Checkout abandoned
You may utilize this trigger to reduce shopping cart abandonment. When a store visitor enters their email address but departs before completing their transaction, this one initiates an automated cycle. These are cart abandonment emails, and they are fantastic for client retention. When a subscriber abandons their shopping cart, this procedure initiates.
Example
The abandoned checkout trigger is ideal for reminding customers to complete their orders. You may highlight the items in the shopper's abandoned cart and close the transaction with a unique offer.
E-commerce trigger 2: Purchases any item
After a subscriber purchase any goods in your store, this procedure initiates and activates when the purchase is finished (paid).
Example
Using this trigger is a fantastic method to provide a real-time order confirmation with the option to cross-sell or upsell. Automations based on this trigger can be a valuable addition to your client journey. You may begin the workflow with this trigger, then add a delay before sending your follow-up email.
E-commerce trigger 3: buys a certain product
When a customer buys a certain item in your store, this will trigger. You must choose this exact product from your linked e-commerce site when generating the trigger.
Example
Often, you want to sell more than one thing to your new consumers. You almost certainly have nice accessories or comparable goods in your business as well. With this email trigger, you can quickly send an upselling email. You may also use it to send informative emails when a customer purchases a certain item.
E-commerce trigger 4: Purchase from a certain category
When a consumer buys something from a certain category, this procedure initiates. When configuring this email trigger, you may select from any of your categories or collections. Any finished product order (completed and paid) from the chosen category or collection will trigger the automated workflow.
Wrapping up
Do you have any questions concerning email campaigns or finding the best email validation tools? Keep visiting our blogs, as they'll always fill you with knowledge and highly help you in making your email marketing campaigns successful. Small efforts and a bit of intelligence can add a lot of magic.
Let us know which trigger you utilize the most in the comments!